Hello, Metal Gladiators
A new patch has been released today with all new contents from season 5.
General
New theme song on the main menu and matches, to get on the season's mood.
Two new thematic songs were added to the matches during this season.
The skin models category is now displayed on the Metal Pass interface.
The game engine moved to a new version, Unity 2017. With this version, the game is now compatible only with DirectX 11, which enhances general performance greatly and also allows us to develop contents with newer technologies, such as the weapons from Vulture.
Metal Pass
Season 5 has begun, and a new batch of fresh items is available. Check this out: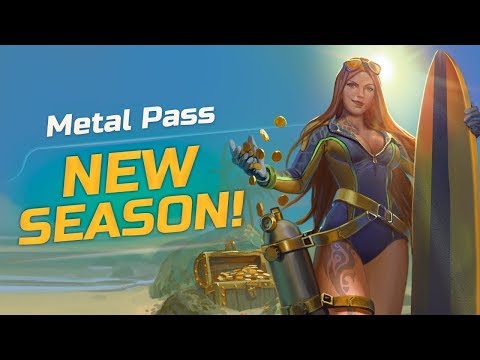 Season 5 highlights
New Pilot: Vulture
New item category: Emotes
Metal God Arena will feature Rockaway Beach theme during the season.
Total of 60 levels with rewards
New missions
New Heavy Metal skin models for Stingray and Stargazer
New Metal Legend skin model for Wildfire
New Rockstar skin models for Peacemaker and Artificer
Lots of new Sprays
New thematic Visual Effects for the matches
New Avatar Portraits
New Pilot – Vulture
Vulture is an Interceptor, and he is a master hunter with mechanics that allow him to achieve great numbers of damage dealt.
General information
Function: Interceptor
Health Points: 550
Weapons information
Weapon 1 – Mark of the Hunt
Launches a blade that attaches to enemies or to locations it drops on. Deals 75 damage on enemies reached. Blades that drop in the arena work as traps and attach themselves to enemies who touch them. Each blade has 7 seconds life-time.Has up to 3 charges without a cooldown. The blades return to Vulture when « Blade Rip » is activated. This weapon has no cooldown.

Weapon 2 – Blade Rip
All the blades launched are activated to return to Vulture. On enemies that have blades attached to them, deals 25 damage per blade.Blades returning to Vulture that pass through enemies deals 50 damage.

Weapon 3 – Ethereal Passage
Jumps forward, allowing Vulture to pass through enemies. Consumes the marks on enemies marked by the « Mark of the Hunt ». Each mark deals 35 base damage and an additional 15 for each mark.This weapon has 6 seconds cooldown. If you damage enemies with marks, weapon 3 cooldown is reduced by 50%, and if you kill any marked enemies with it, the cooldown is reduced by 100%.

Special Weapon – Thrill of the Hunt
After 1 second, launches 5 blades around him, dealing 50 damage per blade on each enemy hit. Launches 1 additional blade for each kill made by Vulture, up to 30 blades.

New item category: Emotes
A new item category has been added to the game. Up to 5 different emotes can be equipped on the inventory.

By pressing D key, the radial menu will appear – move the mouse cursor over the emote you want to activate.

This is a very good way to show your feelings to your team – and taunt your enemies (why not?).
Dirt Devil Special Weapon visual effect update
Dirt Devil's special weapon had its visual effects updated, and now the sand word will rise from the depths to crush all enemies. The art team had been working on this for a while and we're very happy to finally add it to the game on its best form.
The damage and other specifications of this weapon didn't change.

Pilot prices updated on the shop
The price of two characters have been reduced. It's time to complete your collection!
Icebringer – from 10.000 Fame/620 Cash to 8.000 Fame/585 Cash
Stargazer – from 10.000 Fame/620 Cash to 8.000 Fame/585 Cash
New Items on the Shop
Pilot
Vulture
Price: 10.000 Fame or 620 Cash

Heavy Metal Model
Clunker – Life Buoys
Price: 1.450 Cash

Emotes
Angry Fire
Price: 200 Cash

Curse Word
Price: 200 Cash

Start Line Effect
Eat Dirt
Price: 300 Cash

Sprays
Vulture
Vulture Hands
Vulture Guitar
Vulture Blade
Price: 60 Cash each

Vulture Skin Models
Playing with Knives – Progression Level 3

Edge of the Night – Progression Level 5

Blade Master – Progression Level 10

Bugs Fixed
Fixed a bug where some pilots didn't activate their speeches when pushed back by enemy weapons.
Fixed a bug that make bots release the bomb when a player press and hold space key, regardless of the position on the map.
Fixed a bug on the Kill Effect "Winged Spirit", that was appearing inverted on the enemy team.
Fixed an animation bug on some Full Metal Judge models' suspension.
Fixed a bug on Killer J.'s weapon 1 effect that was way too similar to its special weapon.
Fixed the description text from Killer J. "Little Pope J." model.
Fixed a bug on Killer J. "Little Pope J." model purchase screen, that was displaying another model.
Known Issues
Vulture
Weapon 3 description is referring to the character as "him" and not "Vulture".
When using the Special Weapon while standing/passing over Rampage, the blade damage will be applied, but Rampage won't receive the marks accordingly.
Weapon 1 animation does not appear when using it for the first time in a round.
Sometimes Vulture can get through Windrider's weapon 2 effect.
When Vulture is moving on its own axis, the engine sound is the same used when the machine is not moving at all.
Using weapon 1 on a wall and using weapon 2 right after may cause – in rare occasions – the next blade used to stay on the ground in front of Vulture.
Using weapon 2 to retrieve applied blades reset the mark timer even if the enemy is immune (i.e. Little Monster's weapon 2 and Windrider's special weapon).
Using special weapon very close to barriers (such as Icebringer's rear ice) will cause damage on that enemy.
In some rare occasions, when there are two Vultures on the same match, enemies may respawn with blade marks. This is a visual bug.
In some rare occasions, Vulture's marks get stuck on enemies until the next hit they take.
Photon
The emotes are not working when using it with Photon. This issue will be fixed on July 11th with a hotfix.